Painter's Tape Caution!
Don't make the mistake of allowing anyone to use painter's tape on your polyurethane hardwood floor finish. It can damage your floors. Make absolutely sure all contractors work meticulously and carefully to protect your hardwoods.
Once, twice, three's a charm—NOT!
Our story begins by sharing 3 back to back instances of how tape caused severe damage.
Round One
Several months ago it was agreed we would refinish the floors in a beautiful home —after a bathroom-kitchen renovation, but before the painting. The bulk of the contracting was done, and we were cleared to begin. We refinished the hardwood floors for new owners, who were excited about down-sizing to a well appointed Cinnaminson home.
Our work was meticulous, the floors were stunning, and the customers were thrilled. The typical yellowed red oak boards were sanded down, and a rich antique brown made them look brilliant. The railings followed suit, again making a statement against the white painted trim and wainscoting. As soon as the iron posts were installed, it would be the finishing touch to updating this already lovely home.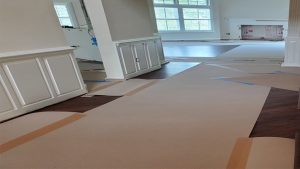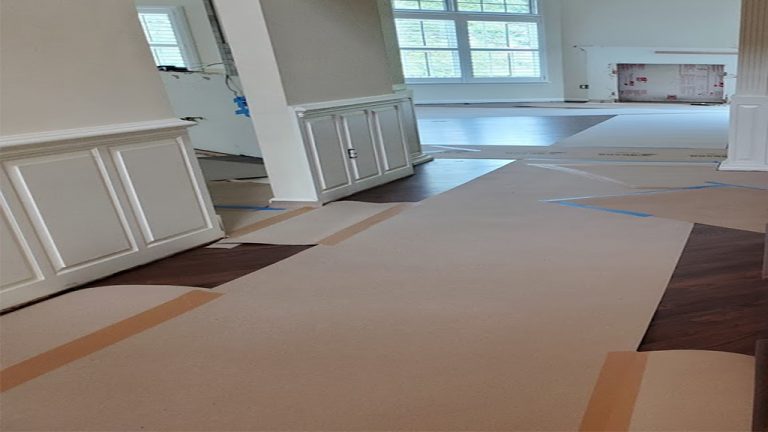 Because other work was to continue, we installed a breathable protecting flooring, (Ramboard™). This membrane is a durable surface affording protection while other contracting takes place. It also protects the vulnerable finish during the critical curing stage. In this case, it was to prepare for the painters, fireplace folks, plumbers, more finish electrical and finish trim workers. We took time to carefully install the Ramboard™ (hereinafter mostly referred to as "boards,) so no blue tape (in this case) was affixed to the new, and vulnerable polyurethane finish. Instead, it went from board to board, or board to other surface (like a cabinet, an appliance or trim). In our minds the floors were sufficiently protected.
About a month later I got a call from the owner. Some of the (Ramboard™) was moved, and more of it was installed with the blue tape applied directly to the newly finished floor. However, it was left for over a week. The directions on the tape say not to let it remain on the surface for even more than a day.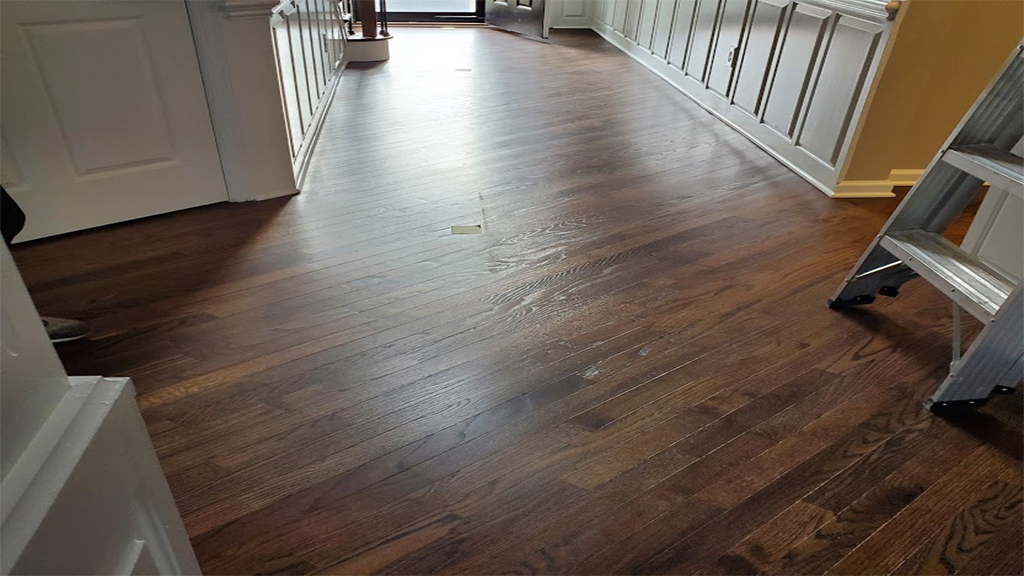 When the painters and others pulled the tape, they ripped the polyurethane finish off right the floor down the middle of the foyer, in a 10-12′ section.
A 10-12′ partial view of damage from blue painter's tape across probably over 30 of the hardwood boards. To make matters worse, this foyer has a huge cathedral window which magnified the damage.
Now after being called back in to help, we had to deliver unfortunate news. How the direction of the boards are running through the open concept of the entire first floor, would require a repair coat would have to involve the entire first floor. There was no area to start or stop for a partial repair. We were forced to have to do some minor sanding, re-staining, and recoating a far bigger area than the damaged areas affected.
Other damages were obvious too. There were exposed areas where the painters over-sprayed paint on the sanded treads. We had to repair them. The trim, which the selection of trim used did not cover some edge detail had to be feathered in, which we repaired. The movers, who were selected because they capably served these customers before, had a new employee on board who drug a bed frame across the finish scratching it.
In the end this couple started with a perfectly finished hardwood floor. We returned to lightly sand, stain and apply finish, which fixed most of the damages. However, the floor was coated working around a massive area rug, so there is a difference in the finish they would have to live with. A couple of nicks were filled and all but disappeared. But the scratch in the upstairs hall into a guest bedroom would remain obvious. This infuriates Mrs. Homeowner every time she is upstairs, and it greets and will greet every guest square in the eye who is invited to stay upstairs.
Round Two – Kitchen Renovation Directly Next Door To This Very Customer
Hearing of our workmanship, and seeing the gorgeous results, the neighbors, in their home next door for 13 years, as original owners asked us to look at their problem areas. They recently had a kitchen remodel, and the contractors used blue tape in the foyer. Again, same thing. The tape pulled the finish.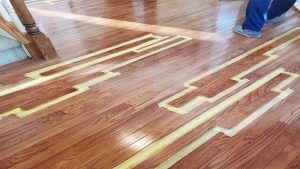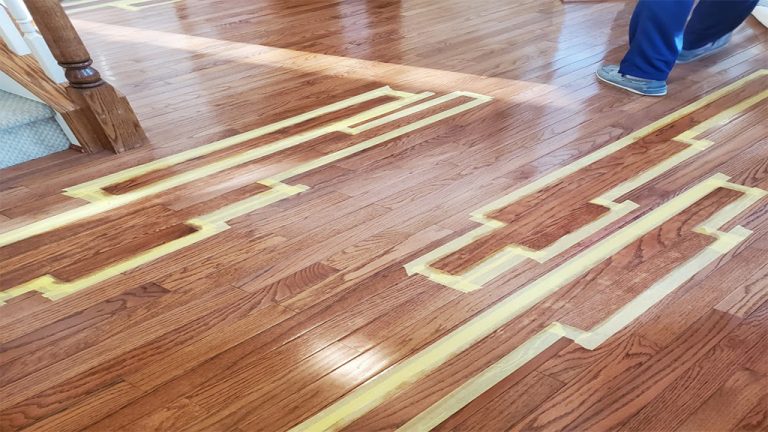 Six patches in the foyer, first in the back area, about 5-6 more in the front. Several people looked at it and gave them their honest assessment. The entire first floor had to be emptied and the hardwood fully sanded down. With that thought out of the question, they were hoping for a repair option. As an alternative we could have narrowed the area to fully sand by installing a flush board to contain the work area, but they didn't even want to do that. We did agree to isolate the affected boards, and try to feather in some stain and finish, but had to have them sign off completely as to the outcome. The first area away from natural light was 100% successful. They were ecstatic! However, we cautioned the second attempt, being in a full sunlit area may bode differently. As cautiously concerned, well the blending went "ok," but the finish was fickle.
This was a tad different. Using the most forgiving "yellow tape," with the gentlest of placing and removing, we had finish pulling. For this install it was apparent that the finish was not applied at full strength, and has begin failing. As the customers understood fully well, there was no guarantee for perfection. But when we were done it calmed the obvious patches down, and the customers were content. They contractor absorbed that cost (certainly not probably the $13K it might have been, but north of $1000.00.)
We parted ways, and these customers realize they are in for a full sand and refinishing nearing soon, but luckily not now. They thanked us for helping them, knowing its not perfect, but a whole lot better.
Round Three – Other Handyman Renovations Pull the Finish as Well
Yesterday an insurance agent called with a frantic insured really upset about finish that he pulled on a floor. Without seeing it she asked for guidance and advice. This contractor did get an estimate (from another hardwood floor team) on what the repair will involve, and panicked when he was given an $18,0000 price tag. Hence the agent called me for help.
So now as we speak, we await to set up an appt to see what options there are, if any to fix the problem areas without refinishing a much larger area (because you can't just start and stop and do only the damaged area.) More times than not you can't isolate it to the damaged area. More the case, it involves a much larger area so the coating blends across the entire floor.
To Sum It Up
Don't apply blue, green or even yellow tape directly on finished hardwood. Do not allow other contractors to do it as well. You are just asking for trouble!