Travertine Refinishing and Repair | South Jersey, NJ
Rustic Charm to Stunning Elegance and More
Travertine is a unique and versatile stone, suitable to a wide range of decorative styles, from rugged and rustic to welcoming old world charm to stunning high-polished elegance. However, your travertine can become dirty or dull-looking, scratched, etched, cracked, chipped, or otherwise damaged with time and use. If this is true of your travertine surfaces, don't replace them! SPARKLE Surface Care can restore your travertine, not just making it look better, but making it look brand new again.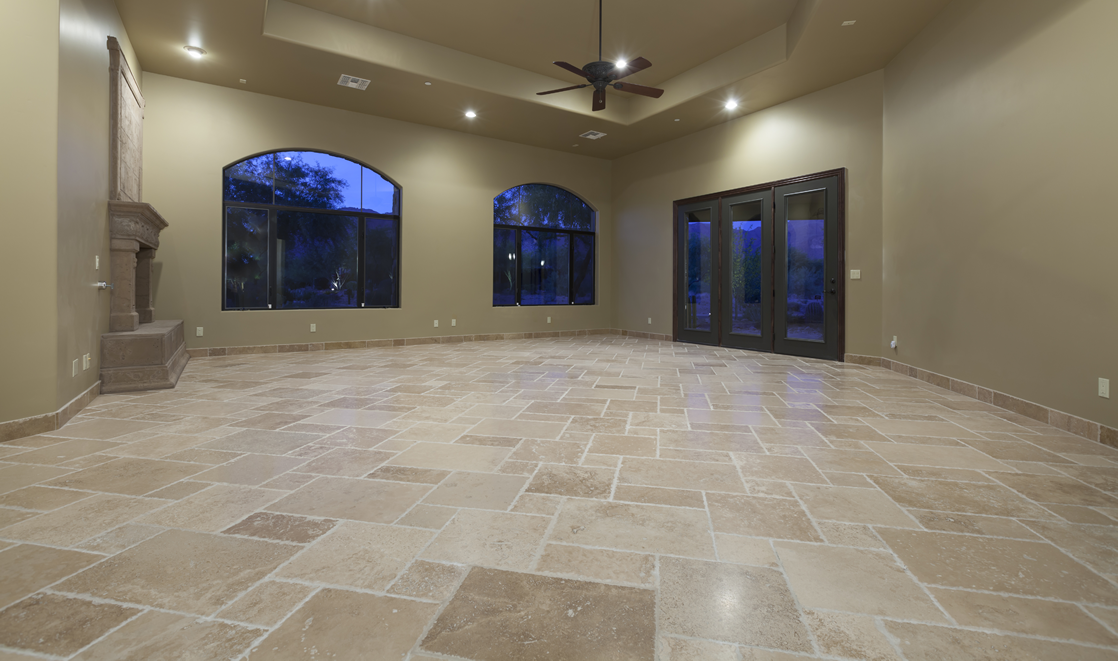 Travertine in its original state has naturally occurring holes throughout. Part of travertine's unique appeal is that it is available in two distinct forms — filled and unfilled. In "filled" travertine, a color-matched material, usually epoxy, is used to fill the holes, giving the stone a smooth finish. In "unfilled" travertine the natural holes remain exposed for a rustic, earthy finish. Both filled and unfilled travertine are beautiful in their own right, and both offer their own particular challenges.
While this term may bring to mind inflatable lounge chairs or rubber duckies, travertine floating really has nothing to do with bodies of water. It is the process used to either change unfilled travertine surfaces to the smooth appearance of filled travertine or to repair filled travertine surfaces whose holes have become exposed due to time and wear. For repairs, we use filler tinted to match the rest of the surface, blending the repair site with the surrounding area, then honing and polishing to achieve a uniform finish. Changing a completely unfilled surface to a filled one is basically the same process, but offers a broader array of design choices, since you are not limited to a color that matches an existing filler.
Refinishing is similar to floating, in that you can restore a finish that is uneven or has become dulled by wear, scratches or other surface damage, or alter the finish entirely if you're looking for a change of pace. SPARKLE Surface Care is well versed in the types of finishes possible, as well as experienced in the techniques required to achieve them.
Grinding / Lippage Removal
Whether you want a floor that is flush with its grout lines for easier cleaning, or need to remedy uneven tiles that can be hazardous as well as unattractive, SPARKLE Surface Care can take care of that for you. Using state-of-the art diamond grinding technology, we can remove excess stone to create a flat, level surface. Once the uneven tiles are leveled (this is called lippage removal), the travertine is honed and polished to your desired finish.
SPARKLE Surface Care can hone your travertine surfaces to eliminate imperfections such as dull spots, scratches, etching and other wear and tear, resulting in a damage free surface that looks like new again. With the damage erased, our expert technicians can polish your travertine using the appropriate diamonds or polishing powders, achieving a honed (soft matte) finish that is warm, inviting, and velvety smooth, a gorgeous glass-like polish, or something in between that suits your taste.
While any travertine surface can become dirty and grimy with use, unfilled travertine with its naturally varying surface texture and inherent holes can be particularly challenging once dirt has had time to accumulate in the hollows and low points. Not to worry, though, SPARKLE Surface Care can remove deeply imbedded soiling, strip away years of buildup of unsightly topical treatments, remove soap film in showers, get rid of soot on fireplaces, and resolve a host of other travertine cleaning problems, leaving your stone as pristine as the day it was installed.
Once your travertine floors, showers, tub surrounds, walls, and other travertine surfaces are restored, we highly recommend you have your travertine sealed to help inhibit staining. Like all natural stone, travertine is naturally porous and quick to absorb staining agents. It's true most stains can be resolved, but who wants to go to all that trouble, expense and frustration when it can easily be avoided. A thorough professional sealing is a good, inexpensive way to head stains off at the pass.
Travertine is characterized by its neutral earthtone colors. For certain types of travertine, our skilled technicians can apply an enhancing sealer to intensify the color and enrich its natural beauty.
Sometimes, in spite of your best efforts, stains happen. That's the time to call SPARKLE Surface Care. Whether you're looking for DIY advice or want to hand the mess off to us, we're happy to tell you that most stains and discolorations can be resolved.
Before you replace your chipped, cracked or otherwise damaged travertine, talk to us about our expert travertine repair services. SPARKLE Surface Care can fill holes in travertine, and fix travertine cracks and chips, blending the repair site with the surrounding area, then honing and polishing it to match the overall finish of the rest of your travertine floor, countertop or other travertine surface.
It's rare to find travertine that is damaged so severely it cannot be repaired, but every so often we encounter a tile that just has to be replaced. Don't worry, we can handle it. SPARKLE Surface Care can replace your tile, using extra care to avoid damaging neighboring tiles, then level the replacement tile with its neighbors, and match the surrounding finish as closely as possible. Do be aware though — unless you have extra tiles on hand from the original batch, replacement tiles may be noticeably different. Because travertine is a natural stone, even tiles from the same quarry and with the same designation can vary in color and appearance as time passes and the quarry line shifts.
For travertine surfaces with high traffic and use, routinely scheduled maintenance services are highly recommended to keep your travertine looking its best. SPARKLE Surface Care is happy to provide these services for you.
SPARKLE Surface Care provides expert interior and exterior travertine services, for all kinds of properties, from homes, apartments, and condos to offices and other commercial properties, warehouses, retail stores, restaurants, hotels, and more. Whether you need minor services like having your travertine cleaned and sealed or major services like extensive repair and restoration, we provide a full range of travertine care and maintenance services.
For a FREE estimate on having travertine holes filled, travertine polishing, travertine cleaning and sealing, or any other travertine services throughout the South New Jersey area, CONTACT US online or call (609) 953-0472 today.
TESTIMONIALS AND REVIEWS
Our Clients Say It Best...
Take a moment to see what our clients tell us and tell the world about us.
We are absolutely thrilled with the work you did to get our home ready to move it.  Beyond thrilled! Thank you for sending me the MSDS sheets of all the...
Herb & Sheila Weiner
I have worked with and referred the Sparkle Surface Care Team for years for all kinds of cleaning and refinishing projects. There really is a difference in their work and...
Rosalie Conaty
You guys are great, you come on time, nice people, do a great job, my floors look terrific, you bring roses, I tell everyone about you and will use you...
Suzanne DeGaetano
As an Interior Designer, I need a reliable one stop shop for my clients' specialty surface protection and cleaning needs, and I am always pleased to refer Team Sparkle. One...
Kristen Benavides
I am giving you a hint to check this award winning and highly regarded company, located right here in Medford. Coming from  a family business in South Jersey whose reputation...
Kathy Healey
This is one of the best contractor experiences I've had in my long career in construction. From wearing booties when he arrived at our house, to pricing the job, to...
J. Robert Hillier