Upholstery and Leather Cleaning | South Jersey, NJ
South Jersey's Premier Upholstery and Leather Cleaning Company
Who do I call when I need my couch, sofa, loveseat, sectional, recliner, chair, chaise lounge etc. cleaned?
Most carpet cleaners can do the job. But it is best to make certain they are IICRC trained and certified as an upholstery cleaner, and also in advanced spot and stain removal. Also, equipment and tools are key— make certain they have a top-notch truck mounted steam cleaner that gets above 212 degrees and can be adjusted as low as 200 pounds per square inch water pressure, with a quality upholstery tool. Make sure they offer the dry foam method in case it turns out you need that or a combination of dry upholstery solutions with the vacuum of the steam cleaner. Then ask if they offer satisfaction or a money back guarantee. and if they are licensed, bonded and insured and if their technicians have been vetted.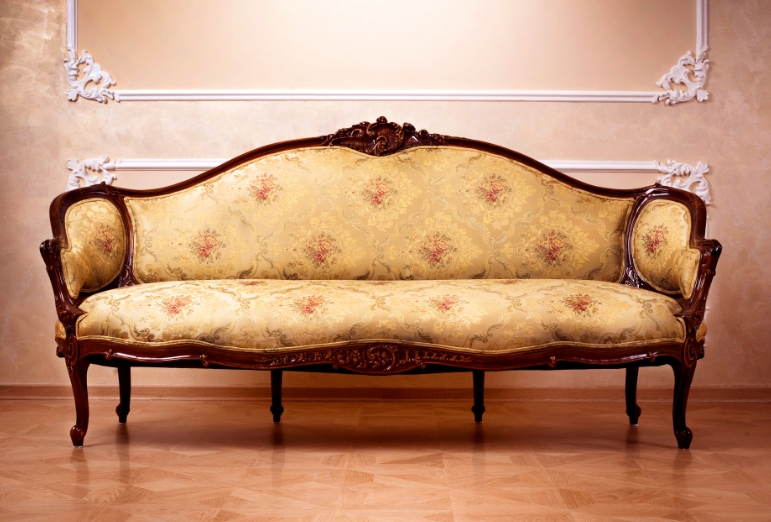 Furniture is an investment and it can be a costly one. Regular maintenance is necessary to keep your upholstery looking good. At Sparkle Surface Care, we are specially trained and use the specific tools necessary to keep your upholstery lookin good, year after year. We can help you protect your investment.  
Fiber protection is a great asset to your upholstery. It helps protect against stains and helps to prolong the life of your fabrics. However, with use, the fabric protector can wear away and may need to be reapplied. We at Sparkle Surface Care have the knowledge and skills to expertly apply fiber protection to your fabrics to reduce staining and prolong the fabric life.
Leather is a specialty fabric that needs expert care to make sure it stays soft, subtle and clean. If not properly cared for, leather can become dry, and brittle, making it uncomfortable to sit on and use. Let Sparkle Surface Care maintain your leather surfaces and show you how to take care of them on a day-to-day basis.
Upholstered Fabrics Need Specialized Care and Cleaning Too
Just like you clean your sheets and bedding, upholstered fabrics need cleaning too. But unlike most bedding that can easily be laundered in your washer & dryer, upholstered fabrics often need special treatment, so the cleaning does not affect the fabric surface.
Fabrics sought after and used, made all over the world and produced in a variety of ways, can react with cleaning in a manner that causes bleeding, shrinkage, distortion, or even alters the look and feel of the fabric surface. In an example, some fabrics have natural dyes, which easily bleed. Some have texture additives, like the cotton pod that is blended in the fiber surface (creating a vanilla bean fleck look) that when exposed to moisture will release dye from the pod the moment it gets wet. Other fabric textures, like velvet or corduroy, will become coarse and stiff when exposed to moisture. The key here is to evaluate the fabric, identify the fiber characteristics and plan the cleaning according to how the fabric responds effectively with little or no disturbance to its overall integrity.
To explain a little further, each fiber has peculiar performance characteristics. Professional cleaners know these characteristics and plan their cleaning accordingly. For instance, nylon, a universally popular fiber, has many positive performing aspects to it and is widely used in upholstery manufacturing. Other synthetic fibers may be used, such as polyester, rayon, and olefin. Each having different behaviors, some resist water-based soiling better, some perform poorly when exposed to water, others when exposed to oil-based spills. All need care and attention. On the natural side, cotton and wool have yet other behaviors consistent with their fiber structure.
You Wouldn't Sleep On Sheets That Haven't Been Cleaned in Six Months Would You?
Then why would you let your upholstered fabrics go months or years without cleaning? Something to ponder- You have a teenage boy who in summer spends a couple of hours playing basketball, shooting hoops, having fun and getting all sweaty with his buddies. Switch gears- the boys decide to head inside to play video games. . . only to flop, drop and plop on your comfy sectional in the family room.
Dialing it down, these boys (not gender skewering per se) just by their movements wipe their sweat all over your poor upholstered fabric, leaving it helplessly smeared with sweat and stench. Again, you wash your sheets that get succumbed to body soiling, but because the upholstered fabric does a better job of hiding the soiling, dirt, and sweat, cleaning it even somewhat regularly is usually overlooked.
Proper Upholstery Cleaning Restores Fabric and Helps It Look Better, Smell Better, And Be More Healthy
Doesn't it make sense that if the fabrics can be cleaned successfully, that they should? Of course. But how do you know you will get proper cleaning? What credentials and skill set does the professional cleaner have that will assure that the cleaning they provide will clean effectively without causing damage to the fabric?
Professional Upholstery Cleaning is Similar to Fine Fabric Care
It cannot be stressed enough that upholstered fabrics are made all over the world, dyed in a variety of ways, and with so many different fabrics. Frankly, the fabric is pretty vulnerable at the very least.
TRAINED AND CERTIFIED Upholstery Technicians can test the fabric, alter the cleaning, and clean the fabric in a manner that cleans effectively, but also protects and preserves the fabric and piece. You do yourself no favors if you use and hire someone who is not certified to handle fine fabric care!
EQUATE THIS TO TAKING A GOWN OR MAN'S SUIT & THROWING IT IN THE WASH! (Don't do it!)
The moment anyone, certified or not, touches the fabric with the intention of cleaning is taking a risk of causing damage. It is just that simple. Furniture is made with little regulation, and cleaning pre-disposes the fabric of being damaged at the very moment someone begins to try and clean it.
It is amazing that folks unsuspectingly will fall prey to the ridiculous pricing for upholstery care merely because the coupons they are subjected to water down proper upholstery care. A coupon for $49.99 for a Sofa cleaning should sound an alarm, for sure! It takes over an hour to properly hand shampoo a piece of upholstery, let alone gently mist to extract it. When seeking out a company to work with, look past the coupons and make sure the person at the wand (or upholstery tool) belongs there.
Here's a Quick Guide to Fabric:
Synthetics- pretty sturdy fabric, submits to cleaning pretty well. (nylon, poly) Can clean with temp and ph, but care and concern should be taken to avoid distortion.
Chenille- not so friendly a fabric to have cleaned
Cotton- more delicate to work with, the chance of over-wetting that may be an issue. Some may show watermarks, and precautions may be necessary
Haitian Cotton- buckle up with this fabric but (contemporary fabric that has the fleck of the cotton pod in the weave, prone to bleeding with cleaning) Often techs will not clean this or get the client to completely sign off on any damage if cleaning is approved by the client
Velvets & Corduroy- clean up but fabric may become rough with cleaning; certified tech would know how to treat, and even so, may have to do the special procedure so fabric appears normal after cleaning
Micro Fiber- very resilient, cleans up well
Absolutely any time upholstery is cleaned there is distinct chance damage can occur. You are investing in and protecting your furniture & decor when you work with a professional trained in working with the very fabric you hire them for. Again, it cannot be stressed enough the importance of cleaning, cleaning properly, and cleaning with someone skilled to do it right.
And, by all means:
Do Not Remove the Cushion Covers & Throw Them In the Washer!
As fast as you get them off and into the washer, you can ruin them- It is not worth the chance!
To sum things up, fine fabric care does protect and preserve the integrity of the piece you most likely treasure. Upholstery in general hides dirt really, really well. And likewise, it harbors germs and holds on to dust particles, chemicals, and other nasty stuff. Cleaning and sanitizing has a positive impact on appearance for sure, but also on the health and wellness of folks living in the home.
Popular Reasons Why Folks Get Their Upholstery Cleaning:
The Baby will be crawling soon
The room is being painted
New carpet or flooring is being installed
We've had this in the garage (in storage, in the basement)
I am giving this to my daughter. . . and wanted it cleaned first
We are moving, and I'd like to get the sofa cleaned before it gets to the new house
The sofa is filthy, especially where my husband sits
My upholstery smells like dog
My baby had an accident while potty training
My dog keeps marking
The cushions are filthy
Leather Needs Proper Care As Well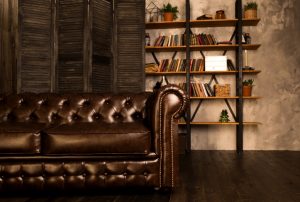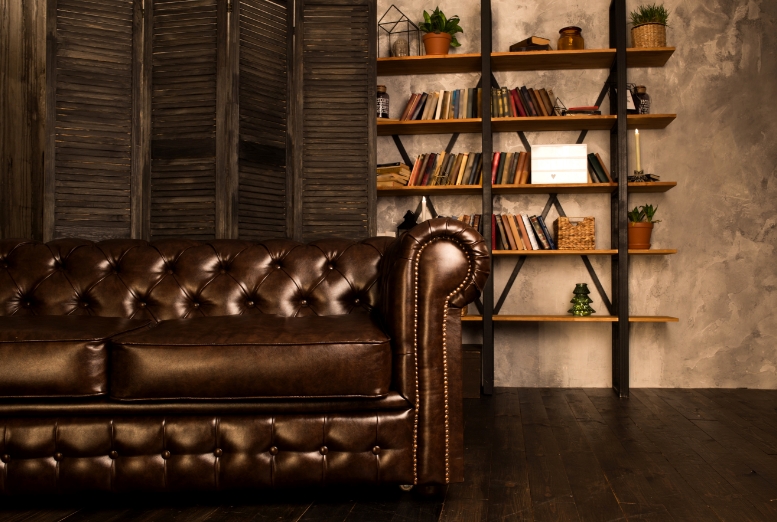 Unlike fabric upholstered furniture, leather furniture care differs greatly. First off it is a skin, much like our skin. And like our skin care, leather benefits greatly from proper cleaning and conditioning.
As leather ages, just like us, our skin is exposed to all kinds of things that test its endurance. Foreign particulate, dirt, oils, body oils & oil from the pets coat, dander, saliva, chemicals, food and beverages, sun light, spills and such all can take a toll on a piece of leather furniture. Add to that "rubs," which the upholstery industry coins as a phrase as to how many "on and offs" it can withstand before the fabric or leather starts to wear down. Basically leather upholstered pieces, like fabric pieces, take a beating.
What people don't realize is leather, to remain clean, soft and supple, needs more attention than fabrics. In fact, the leather manufacturing industry recommends a cleaning and conditioning protocol of every 6 months.
Think about it, how many times do you see older leather sofas, chairs or ottomans that look dried out, stained, sun faded and or cracked. Some times there are cuts or pieces missing. Other times it is stiff. These problems usually occur because of negligent care.
But before you consider how to take care of it you first need to know what kind of leather you have
.
Some Leathers Are Easier To Work With, Others Are Not
Upon inspection you have to determine what kind of leather you have and adapt the cleaning accordingly. While there are 8 kinds of leather, there are three major ones including:
Aniline- Commonly used to for pocketbooks, aniline leathers are processed using soluble dyes to maintain the natural markings and textures, they do not have surface pigment or coatings. They are more susceptible to damage.
Protected or "Bonded" Leather- not solid leather, it is shredded leather scraps and bits reconstituted with an embossed polyurethane coating. I it is very cheap, falls apart easily and quickly, it is found in low end furniture and accessories
Nubuck and Suede- they are grained (textured) leathers and are almost uncleanable. These types of leathers are usually made into clothing, but sometimes are made into pieces of furniture.
Aniline and Protected Leathers are hand cleaned with a special leather cleaning solution. Akin to ex-foliating, the cleaning agents emulsify the embedded contaminants, oils and soils, and are removed with terry cloth towelings. Following this procedure, a protection cream is applied to restore moisture to the piece, making soft and supple once again.
While basic leather care procedures are easily done in the field, some procedures are best left to leather specialists. Repairing cuts and cracks or re-dyeing leather can be done, but the piece is probably best taken to a leather dying booth (similar to a auto body shop paint booth.)
Call us at (609) 953-0472 or CONTACT US online for a consultation about the cleanability of your furniture—fabric or leather. Rest assured, just as fine fabric care is best done by a professional dry cleaner, you are
TESTIMONIALS AND REVIEWS
Our Clients Say It Best...
Take a moment to see what our clients tell us and tell the world about us.
We are absolutely thrilled with the work you did to get our home ready to move it.  Beyond thrilled! Thank you for sending me the MSDS sheets of all the...
Herb & Sheila Weiner
I have worked with and referred the Sparkle Surface Care Team for years for all kinds of cleaning and refinishing projects. There really is a difference in their work and...
Rosalie Conaty
You guys are great, you come on time, nice people, do a great job, my floors look terrific, you bring roses, I tell everyone about you and will use you...
Suzanne DeGaetano
As an Interior Designer, I need a reliable one stop shop for my clients' specialty surface protection and cleaning needs, and I am always pleased to refer Team Sparkle. One...
Kristen Benavides
I am giving you a hint to check this award winning and highly regarded company, located right here in Medford. Coming from  a family business in South Jersey whose reputation...
Kathy Healey
This is one of the best contractor experiences I've had in my long career in construction. From wearing booties when he arrived at our house, to pricing the job, to...
J. Robert Hillier