Look Who Chris Stumbled Upon While Inspecting A Recent Terrazzo Floor Buffing Job!
Visiting a recent floor job, Chris found himself stumbling into André Gardner, broadcasting live on WMJK at the infamous Pic-A-Lilli bar in Shamong this past St. Patty's Day!
A crown jewel in the Pines (Pine Barrens), Pic-A-Lilli has been the hang-out for nearly 100 years, and we have the privilege of maintaining their beautiful terrazzo floors. (I have to say, with our care the terrazzo floors honestly don't look their age!)
Given that the bar is located in the Pine Barrens, an iconic part of South Jersey once under water, it preverbally sits, like much of the pines, on sandy soil aside Rt 206. The bar is a stopping point enroute to places like Atlantic City and other popular shore points along the Jersey Coast. But beyond that, Pic-A-Lilli draws locals (some known as "Piney's") out of the woods and from local towns nearby. It is a lively, vibrant happenin' place, perhaps even proudly qualifying as a who's who on South Jersey's best-loved "dive bar" list.
So on this particular Friday which happened to be St. Patty's Day, André Gardner returned to his 'Piney Roots,' and belted it out on MGK.
What a great homecoming for Andre′ as friends, family, local Pic's patrons, the "Pic Chicks" and tons of Medford Lakes and Shawnee Classmates came out to raise a pint with him.
Although well advertised, Chris was unaware that André was booked for the St Patty's Day gig, but André's fans and the Pic's crew certainly showed up for a pint and lots of shenanigans. In fact, you would think it was really a Shawnee (the local high school André attended and got his first start) reunion! Classmates, fans and even the teacher (Ted Steinmetz) who helped André get his start came out to say hello. And Pic's owner Bonnie Lynn (a Shawnee grad herself), was all too happy to host everyone, even leading in the Irish Cheer.
But back to Chris… He was making a routine stop to visit the results of our staff's efforts to buff and shine the terrazzo floor when he found himself right smack dab in the middle of André's broadcast. As Chris entered (seeing the parking lot packed), it was instantly obvious what was going on.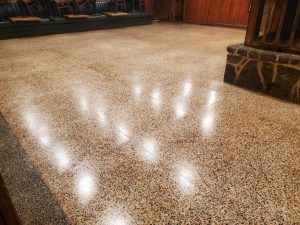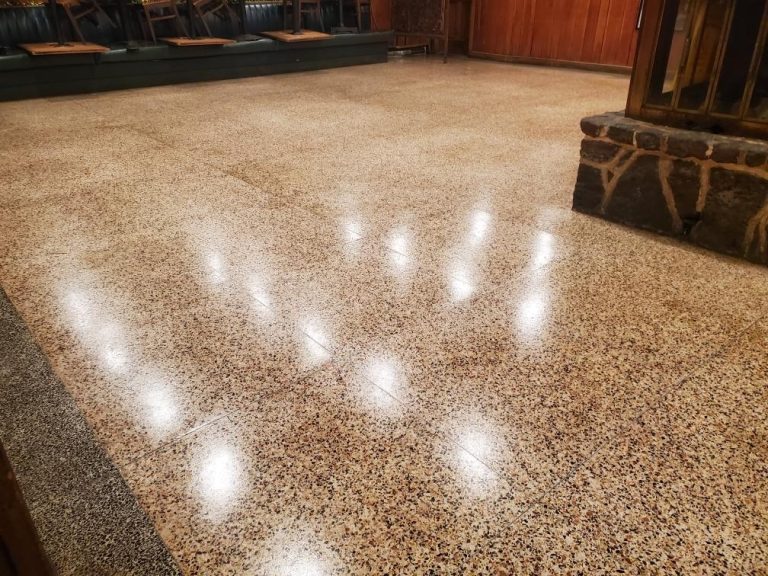 With everyone getting their green on, there was hardly a chance to see the floor, but hey it shined wherever he could see!
Quickly seeing Chris, André called over to him to say "Hey, look who just showed up, it's Chris Fenske!" André called Chris over to the broadcast table, nestled in the corner of the dining room by the fish tank, and the two fist bumped. Chris and André and about half the room too, spent those ever 'tender' teenage years trying to survive high school while trying to find oneself. So it was fun to reconnect for sure.
Andre′ was belting it out to the Delaware Valley, while spinning classic rock tunes to take everyone back to those times.
Of course, not neglecting his reason for the visit, while Chris was there he did spend a little time inspecting the terrazzo floor and confirmed that the floor was still beaming proud. What a difference proper care and maintenance makes. With a customized floor care plan, the terrazzo continued to shine and stand up to the sand, grit, booze and grease it experiences in this ever popular 'joint' people love.
So for some time now "Team Sparkle" has put their touch on the terrazzo, and it shows.
After a full strip and re-wax of the terrazzo, Chris has instituted a periodic steam clean and buff, or steam clean and apply another coat of wax to prolong the shine on the floor. And frankly a challenge, he hopes to continue this protocol instead and "kick the can down the road" in avoiding having to re-strip the floor. Click here to learn about how we refinished it.to see how it got refinished. And so far so good. (Actually there is a game plan in the works to restore the floor with a bang up coating that is almost care free, and will serve them for years. But not until other work is complete can they even think about that.)
And after learning of Chris' purpose in visiting, Andre′ concurred that "Chris is the man" when it comes to floor care—in this case terrazzo floors!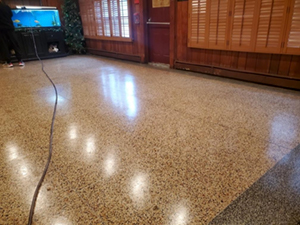 Probably even remembering way back to the Shawnee days, Andre knew Chris helped his dad with strip and wax floor jobs at Shawnee. Chris' dad worked there, and he brought Chris to help when they had big strip jobs. Little would Chris know it would be the precursor to having his own floor care business years later.
And as he and André reminisced, André saw first-hand the results of Chris' work, and confirmed he is the man for all things for all things floor care! It was great fun for Chris to catch up, and he appreciated André's nod about his floor care expertise, and spreading the word, as many of Chris' other classmates already do!
---
Have terrazzo or other commercial floors that could use a knock-it -out-of-the-park-refinishing than we are the team for you! CONTACT US or give us a call at (609) 953-0472 to schedule a free estimate.