BIG In Everything…Big Cars, Even Big Bets! All Things Big!
Retired NBA Star Jason Smith was no different in having and wanting everything big, given he is 7′ tall.
It was very cool to team up with Jason and Christy Smith to "allergy clean" their new house. While there we had a giggle about not only the 'big house' we were cleaning, but we also heard a funny story Jason told us about big cars!
Last week we cleaned all the floors from top to bottom at Jason and Christy's house in Moorestown. It is a magnificent home, with huge rooms, high ceilings, high doorways, and even large, oversized stall showers. Just the ticket for a retired NBA player who stands 7 feet tall. Jason was determined to have a home where he can walk freely and not have to forever duck going from room to room.
The house surfaces needed a deep steam and other deep cleaning, much deeper than traditional housekeeping efforts.
What nice folks they are for sure, they are laid back, "chill" and just down to earth. Jason welcomed us and appreciated everything we brought to bare to help him do an "allergy cleaning" to remove the pet dander, hair, oils and even saliva, and plain old dirt. It was a "start fresh, get everything clean to remove the sellers' dirt before they move in-" kind of cleaning. So, our work followed the duct cleaning and sanitizing. (What dust they stirred up we vacuumed, and steam cleaned up!) Honestly, all light heartedness aside we were there to provide a deep cleaning treatment to make it as safe and healthy as possible. To learn more about cleaning to remove pet allergen cleaning click here.
So we arrived and got to work right away. Jason couldn't have been nicer, so when we broke for lunch,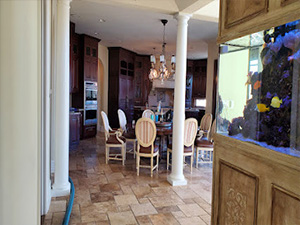 we asked if it was ok to sit at their "everyday" eating table that seats about 8. He said sure and stayed around about 10 minutes talking with us before he himself went out to grab some lunch.
As we sat and kibitzed our guys were drooling over a couple of his vehicles. And Jason, clearly a fast car buff jumped right in!
Two of our techs (Mark and Jeff,) share a passion for nice, fast cars. And they did not miss either the four-door sports car in the garage or the pickup in the driveway, both vehicles most would love to own. Jeff couldn't help but hint if Jason needed a car detailer, he would love to offer his services. Something I didn't know about Jeff, he detailed cars to make money during college, and still enjoys doing it. (If you need a car detailer let me know or call Jeff directly at 609-332-4139.)
Well Jeff might have been shy about it, but I wasn't! I mentioned to Jason about Jeff's detailing services. And actually, Jason said he may take him up on it (we shall see)!
Clearly Jason has a thing for fast cars, and the two at the house were certainly that! One a four door, the other a pickup, and both many car aficionados will give anything for. But it was the funny stories that Jason talked about what car or trucks he could fit into, and what he couldn't. And he elaborated about his friends having the same height problem- LOL!
Jason had a couple stories he shared about his cars, namely that the 4 door' in the garage was a souped-up German car outfitted for racing and one he could fit in to. He was pleased to report that he purchased it "as is" because he can freely get in and out, something he can't just do with many cars. Likewise, he also stated that he easily gets in and out of the "Shelby outfitted" Ford pickup sitting outside in the driveway.
Big guys and their big bets- it really was 'play money' and their bet was on!
With that said he was laughingly telling the story about the bet he had with Shaquille about the pickup he bought. He bet Shaq that if Shaq went to demo the same truck at a dealership that he might actually fit in it without needing any chop shop modification. The bet ensued, and they shook hands!
Apparently, Shaq commonly buys vehicles that he has 'cut' and space added to just to fit in, to the tune of some insane money. Shaq went to a dealership and asked to see the same model truck. He easily got right in and was comfortable inside. Laughing, Shaquille called Jason and asked him for his bank account number to wire in Jason's winnings from their bet.
So with "story time" over and lunch all finished Team Sparkle got back in the game and continued cleaning!
For us it was back to business. The scenario- 3 guys with about every cleaning wand we had, and a couple of specialized hard surface cleaning machines, we did in fact hit every surface for them. Fast forward Day 2, hoping to ramp up our results and appearance of the travertine floor, we cleaned it again. And we had some tweaking to do in the formal living area. But beyond that we finished, and after a quick visit the next day, the moving truck arrived outside.
---
If you have household or allergies to pet hair and dander and need deep cleaning to treat give us a call. We are knowledgeable about allergens and have deep cleaning methods to remove them. We can help you! For a free estimate Call us at 609.953.0472 or CONTACT US on line. 
PS- again if you need a car detailed, give Jeff a call! 609.332-4139.