Moorestown eye doctor takes a serious look at her floors and surfaces and schedules her houses for deep cleaning.
A long time client, when our client Amy calls she has a serious punch list of things for us to do. But way back when we started to clean she became a client for life because the ease of working with us. She liked the fact that we could take care of all her surfaces without having to deal with multiple contractors, one for carpet and upholstery, another for wood, a third for stone, and even a forth for exterior surface detailing.
An Eye Doctor with a very busy, multiple office practice, she relied heavily on her nanny to oversee and deal with various contractors. Likewise, her hubby also extremely busy with work and athletic activities manages other projects in a similar manner. They needed trustworthy and reliable service people who didn't need to be babysat, but instead got in, executed the work seamlessly, and got out, all the while while they were at work, and anywhere there busy young family needed to be.
Fast forward, with kids in grad school there is no babysitter, now with the code to the garage on file we got access, and a found the blank check on the counter.
Usually yearly, or bi-yearly Amy calls and schedules. She gives us her punch list, which is just about the same every time. We refer to our previous invoices and get the scope for our intended cleaning clearly defined. We always schedule to arrive at 8:30, about the time she has headed to one of her office locations. We arrive with free run of the house.
This year was no different, having us clean for the 20th time in 22 years, we're pretty sure she loves the simplicity and the results!
Like all the other years, we are asked to clean and polish her granite foyer, steam clean her Mexican 'Saltillo" tile, clean her carpets, and steam her tile and grout in her bathroom. But unlike previous years, with the kids away at school, there is less carpet to clean, but a sizeable job no matter what.
Chris called, firmed up the project list, and got set up. And, with the work complete, he and Mark pack up, lock the door and go on their merry way.
But surprisingly, while on vacation at their Cape May house Amy calls to schedule this house barely 3 weeks later!
And with that she asked did we do anything with exterior surfaces like deck cleaning, outdoor furniture, etc.
The short of it I told her, yes we do clean exterior surfaces. To be specific, we clean outdoor furniture fabrics (sunbrella), and pressure wash outdoor resin furniture. We steam decking, pavers, sidewalks, pool decks, and driveways as well. And while we do pressure washing, we aren't equipped to pressure wash exterior siding, or soft washing of roofing material.
Amy delighted that we could clean some chairs and decking for her while we were there. The appointment was booked for a Monday in Sept.
Same gig, but a little different. After explaining that she and her hubby usually divide up their house service needs, she has Chris meet David at the house. She has requested that we inspect all the surfaces that we offer services for, and make suggestions on what all needs to be done.
Chris developed a short list of services for cleaning, and a secondary list for stone restoration.
Again while driving from the shore to work Chris finalized the cleaning with Amy on the phone. And meanwhile David got packed up and left as well. So with our scope clearly defined we got set up and cleaned away. Mostly a ton of tile and stone cleaning, we also did carpet, upholstery, hardwood and carpet. Add some exterior deck steam cleaning, and we had a full day of work.
But a note about the deck 'steam' cleaning, our truck mount methodology trumps most landscaper capabilities.
When speaking with Amy about her possible punch list I explained how our truck mount gets better results than typical pressure washing that landscapers do.
I shared these points:
Truck mount steam cleaning- in and of itself, truck mount technology yields in high pressure, high temperature cleaning. This means that high pressure psi cleans better than say garden hose pressure. The high temperature (as close to boiling as possible) cleans more deeply, getting dirtier things not only cleaner, but even more sanitizied. In fact, stuff like mold, bacteria, and moss is cleaned more thoroughly.
Truck mount extraction rinsing and recovery vs pressure washing- Perhaps you have your own pressure washing machine and know how it works. Our truck mount extraction with our hard surface tools cleans better, deeper and differently. Not only do you get strong psi pressure and high temperature, you get strong vacuum recovery!
→To be specific, the bits and chunks of dirt, sand, moss, leaves and etc. are recovered and sucked up into our waste tanks. We don't just blast and blow chunks everywhere.  Also, we suck up areas that puddle and where dirt collects and settles that pressure washing doesn't recover!
Amy was pleased that all these things would get done, again with she and David off doing their thing.
So with the short list on deck for this visit, it was executed seemlessly. When done, again, they packed up, locked the door and left.
Chris promised to give her pricing for stone restoration to be done at a near future visit.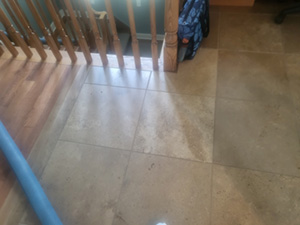 This stone restoration, comprised of "diamond grinding" the stone, basically to 'wet sand' off the dull, scratched or etched surface of the stone, and then follow that procedure with honing and polishing.
This service will restore a repaired and polished look of the stone. TBDS- in this case 'to be done' soon!
---
PS- She has ok'd the stone polishing, and we will be scheduling in the next couple of weeks!
If you need deep cleaning of your surfaces, executed by commsumate professionals using the best cleaning, refinishing and polishing technology available, then we are the team for you! Call 609.953.0472 or Contact Us on line.